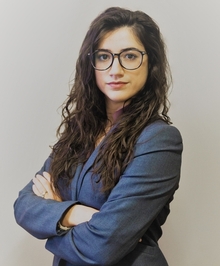 EDUCATION
Bachelor of Arts in Sociology and Legal Studies received from the University of Wisconsin - Madison, 2011

Juris Doctor received from the University of Wisconsin Law School, 2015
ADMISSIONS
2015, Wisconsin
2016, Minnesota
Carla Carballo Rife
Associate Attorney
CONTACT INFORMATION

V-Card
Carla's years of serving "behind the bench" demonstrate her devotion to the law. Having clerked for two years exclusively in Hennepin County Family Court and having served as a law clerk on the Minnesota Court of Appeals with a focus on opinions pertaining to family law issues, Carla is perfectly poised to launch her career in private practice. Carla possesses all the qualities necessary to handle the different facets that family law cases present. She is extremely smart and hard-working. Colleagues have described Carla as "having an encyclopedic understanding of family law."

Prior to joining Margaux C. Soeffker, LLC, Carla worked for two years at the Hennepin County Family Justice Center (FJC) as a law clerk for Judge Paul R. Scoggin. Following her clerkship in district court, Carla also worked at the Minnesota Court of Appeals as a law clerk for Judge Jeffrey M. Bryan. In law school, Carla discovered her passion for family law while working as a student attorney in the Family Law Project- a student practice clinic. Carla moved to Minnesota in 2015 with her husband after they both graduated from the University of Wisconsin Law School.

During her time clerking in Family Court, Carla became well-versed in Minnesota family law by participating in various types of hearings that came before the court and writing orders in matters involving divorce, custody, and paternity. Carla also worked on cases regarding parenting time, child support, spousal maintenance (aka alimony), property division, emergency motions, third party custody and visitation (aka parenting time), contempt and domestic abuse. Carla interacted with litigants daily to answer administrative questions regarding their cases. Every day Carla worked with various service providers affiliated with the Family Court, such as the Self-Help Center, Court administration, Family Court Services, and the Domestic Abuse Service Center (DASC) to serve the parties involved in family law matters before the Court. She also communicated with attorneys and parties who were not represented by counsel.

At the Minnesota Court of Appeals, Carla was responsible for writing memoranda and drafting appellate opinions in different areas of law. She has researched and worked on appellate opinions regarding family law topics such as division of property and custody, in addition to topics in criminal law, trusts and estates, harassment restraining orders, and child protection. Carla also edited a number of appellate opinions in these areas.

Before being hired as a clerk, Carla represented clients as a volunteer attorney with Mid-Minnesota Legal Aid and the Volunteer Lawyers Network. In law school, Carla had the opportunity to represent clients in divorce, motions to modify child support and parenting time. Carla learned how family court matters intersect with other areas of law from her time interning with the Guardian Ad Litem Division in the Milwaukee County Children's Court, where she worked on permanency plans in Child in Need of Protection or Services (CHIPS) and Termination of Parental Rights (TPR) matters.

In law school Carla was an active member of the Children Justice Project and the Latino Law Student Association. Carla represented her law school in the Hispanic National Bar Association Moot Court Competition as a competitor and as a coach the following year. Carla also wrote an article on open adoptions as a member of the Wisconsin Journal of Law, Gender and Society. Before law school, Carla earned a B.A. degree in Sociology and Legal Studies in 2011 from the University of Wisconsin-Madison.

In her spare time, Carla enjoys going for long walks along Minnehaha Creek and listening to podcasts. She enjoys drawing and crafts of all kinds, especially crochet.

Carla was proud to serve the citizens of Hennepin County as a court employee, and she is proud to continue to serve Minnesota families as an associate attorney with Margaux C. Soeffker LLC.